#communitymoneyjar

SUMMARY
Find a jar, write Community Money Jar on it, and upload a picture/video of it with #communitymoneyjar.

Any money that is put in the jar is free to receive, and anything that is funded by the #communitymoneyjar is meant to be shared with others.  
By using the jar, we normalize non-attachment to money, foster gratitude towards others, and help others who need money.

I have found myself working just to have money to put in the jar for others.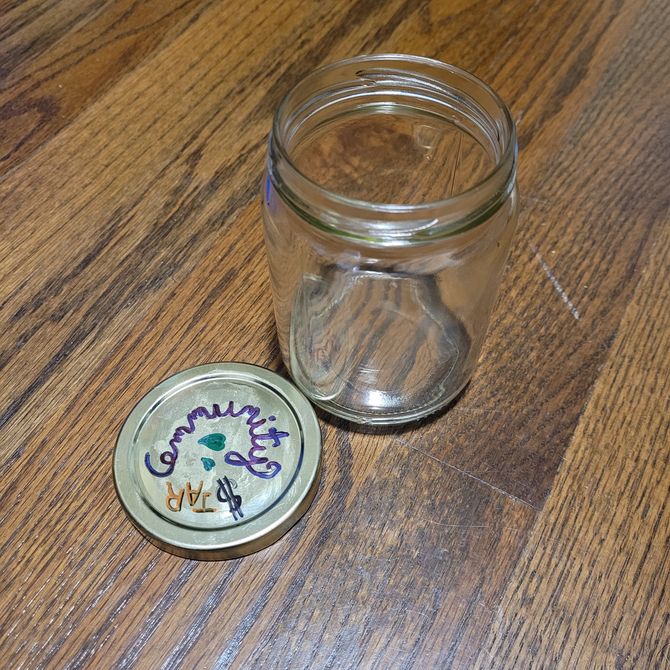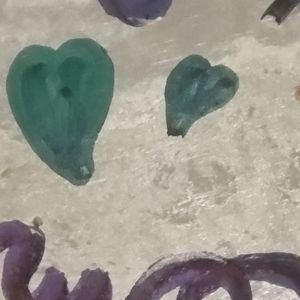 hey you!
IMAGINE THIS JAR EVERYWHERE.
 
IMAGINE YOU WALK INTO A CAFE
AND THERE IS A COMMUNITY JAR
WITH 5 DOLLARS IN IT
FOR ANYONE TO USE.
 
IMAGINE HOW GRATEFUL
YOU WOULD BE
FOR THIS GLORIOUS COFFEE
A GIFT TO THEE

AND HOW YOU WOULD WANT
TO CONTRIBUTE
WITH GLEE

KNOWING
THAT GIVING
IS WHAT IT MEANS

TO BE
 
imagine if there was always a fund at checkout stations
that people could put money into

imagine if each time you had the chance
you could contribute to funding a security net for those in need
and normalize letting go of money
without attachment to its specific use
simply trusting
and saying to the person behind you in line
that we all need security.

imagine the culture of trust we could foster
trusting that the money is used
by people who are in need
for the benefit of the community
when you are done reading this click on that image of the community money jar with a carrot in it to the right or down below depending on your electronic device and remember that food is money in our confusing and mixed up world and whenever you put money into the jar you are potentially feeding someone a carrot if you had a mother like me who reminded me to eat vegetables for snacks.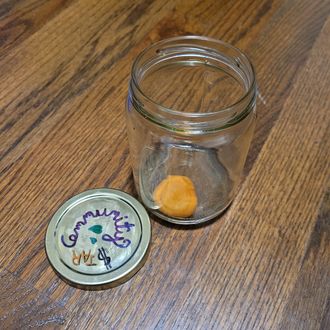 AN OPTIONAL GAME

you may choose to be
a #jarholder

you can be a person with a community money jar
to bring to events as you like
you may ask for contributions
you may give out money from the jar

but as a Jarholder
you can never use
the money in the jar

that is the only rule that cannot be broken

you must always personally ask
for money to be given directly to you
if you are to ask at all

this is to avoid the situation
when someone misinterprets your question
and thinks:

"hmmm...although they are asking for someone else
i.e. "the money you give is for the community money jar"
they are lying, and actually saying
"put money in the jar so i can take it for myself"

you can point out this fallacy by saying the only rule of the game:

"I am a Jarholder
and I do not personally use
any money from this jar."
and then
as a Jarholder
you will come to know
those who are need in your community
based on those who accept the money you offer
and little by little
you will help money reach those with less
simply by giving to those
who ask
and receive

which brings up a very important element of being a Jarholder:

you must ask for money



 
Poem of the Jarholders
here is the jar i always bring
for out of this jar many gifts do spring
that show us how to dance and sing
but only when we learn
that by our giving
gifts return